BOTH the 11 AM and the 9:30 services will be held in the Fellowship Hall this Sunday, July 22.  Both services will conducted by Memorial's Youth.  It is a fact that our youth are planning to take over the world. Come see what they have in mind!  There will be more insights into the theology of Sierra Service Project missions.  (http://www.sierraserviceproject.org/theology.html)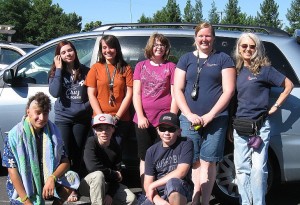 Experience the Sierra Service Project at the Imagine! service this Sunday, July 22. Our youth and counselors who went on the mission trip will lead the service.  They will also be sharing their experiences during the Traditional service.
Memorial's Youth are away on a mission trip this week (July 1 – 7) at Rakestraw Memorial Community Education Center in central Los Angeles.  This is a mission through Sierra Service Project.

Their work there involves repairs and cleanup of the facility.  Come Sunday an hear about their experiences on this mission project direct from them.
We are honored and blessed to present John Nilson, in concert at Memorial on June 30th at 4 pm. John is a pianist, guitarist, songwriter and recording artist and has traveled the world with his music. His CD sales are approaching one million copies and is working on he 18th CD.   A "free will" offering will be taken for him at this concert.  This concert is open to the public. Don't miss it! Mark you calendars.  Pass the word. Invite friends.
One look at his website,  http://www.johnnilsen.com and you will want to drop everything to attend!
On Sunday, June 3th at 7:30 pm in Memorial's Worship Center, the Boise Epworth United Methodist Church High School Youth Ensembles will perform for the church and community.  This group travels around the country performing as a mission.  The public is invited.  It's free.
Meet the Boise Epworth United Methodist Church High School Youth Ensembles at a Potluck in the Social Hall before their performance at 6:00 pm.
May 31, 2012, 7:30 pm at Memorial's Worship Center.
This event is open to the public. Pastor Janette has heard the performers and even has met some of them.  She has been raving how wonderful they are and she highly recommends that you attend.
Worship will begin at 10:30 am on Sunday, May 20.  There will be NO services beginning at 9:30 am and 11:00 am.  Don't miss this special exciting, energetic, worshipful service!
Chef Matt Babcock will prepare a gourmet lunch dinner for ALL women on Mother's Day, May 13th at noon in the Social Hall.   Bring a friend! (Men are invited too!)  Tickets only $10. Proceeds go to staff appreciation gifts.  Call the office, 299-4615 for reservations.
The Lenten Class is looking for spiritual growth in our congregation! We have suggested a list of things that might be ways for us to makedisciples of Jesus Christ for the transformation of the world. Please take the survey here BY 5 P.M. TUESDAY IF POSSIBLE to check things you would be interested to participate in.