Fall Festival & Carnival!
Fun at Memorial UMC on Saturday, October 22 from 9 a.m. to 4 p.m. complete with games, food and hand-crafted items.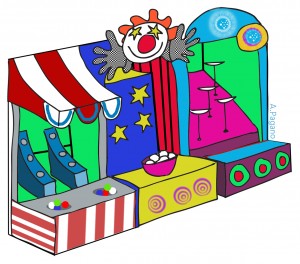 Booths will offer jewelry, hair pretties, baby blankets, candles, potted plants, a silent auction and much more. At one booth, fair trade coffee, chocolate, crafts and jewelry sales will help provide third world entrepreneurs a living wage. Enjoy popcorn, cotton candy, hot dogs and beverages throughout the day.
Carnival games, a bounce house and a cake walk will be fun for children and adults.
This spooktacular event will be followed by an elegant tri-tip dinner by Chef Matthew, from 4 p.m. to 6 p.m.  Tickets are $25 each. There will be opportunities to win tickets to the event during the carnival.
This is a community wide event. Everyone welcome.
Proceeds received by the church will go toward the worldwide ministries of the Methodist Church.
Vendors contact Memorial UMC 559-299-4615. VendorApplicationForm