Welcome Home!
[Click* NEWS if you visited this site before. (may require two trys.]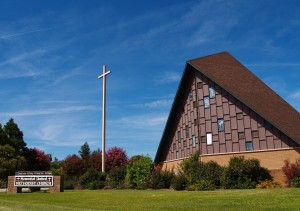 [Click here for worship times.]
[Smartphone users: click the menu icon at top left for more pages.]
Members of Memorial United Methodist Church have said that coming to the church was like coming home. This spirit of family in Christ began in October, 1893, when the church was founded in Clovis by the pioneer Academy Church. Memorial continues to pioneer the future with our contemporary and relevant faith.
Our church is a mix of generations and family configurations, including families with children, drawn together in a warm and lively Spirit. Some of us grew up Methodist, but many did not, although we are drawn together by the emphasis in United Methodism of a heartfelt spirituality and loving service to our community.
We offer opportunities for spiritual growth, education, fellowship, thought provoking discussions, and worship.
We have had an outreach to the Hmong community since 1999 beginning with a Hmong community garden and now have Hmong programs in worship and education in coordination with our English language community.
Click here for Sunday morning worship times.
See our NEWS menu for the latest happening at Memorial.
See Facebook for even more happenings. (You don't have to belong to facebook)