Live Nativity Walkthrough 2014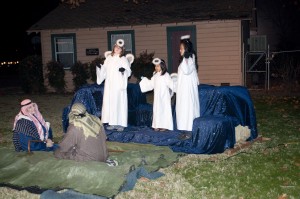 You will be magically taken back 2014 years at Memorial on Saturday and Sunday, December 13 and 14 between 6 and 8 pm as Memorial United Methodist presents its sixth annual Christmas Card to the Community featuring six inspiring scenes narrated by Newell Knudson, live performers and music.
The 20-minute walk with a shepherd guide takes the path back to Bethlehem to celebrate the true meaning of Christ's birth.  Bring your kids and grandkids to share in this homegrown celebration of Christmas and join in singing Christmas carols and warm up with hot beverages and snacks.
It's all free and runs two nights Saturday, Dec. 13th, and Sunday, Dec 14th, from 6-8 pm – rain or shine.  Parking is in the lot entered from Scott Avenue.  As you approach from the west parking lot (off of Scott Ave.), the Centurion will greet you to get you started on a wonderful journey through time
Watch Memorial's float in both the 2013 Fresno Christmas Parade
See Photos of the 2011 Live Nativity
Live Nativity handout 2013 (PDF file for print and distribution)
Watch this post for updates.
Post expires at 8:00pm on Saturday December 14th, 2013