Micah Ministries
WORLD MISSIONS
Memorial is sending a team of Members to Haiti in the spring of 2013 under UMCOR (United Methodist Committee on Relief).  See more. 
Stop Hunger Now!
On May 18, 2013, we packed 10,200 meals for the hungry. This was such a success and was so easy, we knew we can do more.  On October 20th, 2013, at Memorial, we packed 121,422 meals in a huge Stop Hunger Now meal packing event as part of Memorial's 120th anniversary.

This was a community wide event. Teams from people's work, organizations, Boy Scouts participated.
Divine guidance must have been involved with this event because we had no idea that our meals would be desperately needed a couple of weeks later in the Philippines after the devastating typhoon. Click here to read a letter to Memorial from Stop Hunger Now.
Click here to see a video of the October, 121,422 meals packing.
Stop Hunger Now relies on donantions to pay for the food ingredients. Each meal bag costs about $1.80 and feeds about 6 people. Donations are also needed to cover transportaion costs. Please donate. ALL donations via the button below will be passed to Stop Hunger Now.  Memorial keeps none of it. 
This event is organized by Memorial and Stop Hunger Now which is an international hunger relief agency that has been fulfilling its commitment to end hunger for more than 15 years.
Other Missions
Various world missions are actively supported by Memorial through organizations such as the Church World Service, and Global Board of Ministries. For example, Memorial made blankets for the Church World Service TOOLS OF HOPE & BLANKET Program
.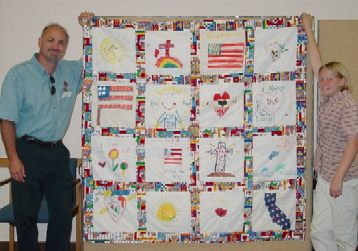 United Methodist Apportionments
We are a connectional church, connected through the world-wide United Methodist Church. We support the missions of the United Methodist Church as much as possible. Monetary support is provided through apportionments which the United Methodist Church requests from each local church. Memorial pays its apportionments from its general fund. Check out http://www.umcgiving.org for more info.
In 2012, Memorial paid it's apportionments in full for the first time in 17 years. Click to see video of the celebration.
LOCAL MISSIONS
Memorial is active in the local community with local missions sponsored by Fresno Interdenominational Refugee Ministries, The Poverello House, Fresno Metro Ministries and any other local need that may arise.
Food Bank
Memorial UMC maintains a small storage of food for people in need. You can help to keep the pantry stocked by bringing non-perishable food to the church office.
Community Garden
Residents from a nearby Hmong community are using a previously undeveloped portion of our property as a garden to grow vegetables for their families.  It is a beautiful addition to our property in two ways. The beauty of the fresh, green rows is a joy to see and it is also wonderful to behold how people can do so much for themselves when given a little help. We are reminded of that every time we drive into the parking lot.  The Hmong gardeners are the best. The garden is always neat and something is always growing.
The Community Garden is a joint project with FIRM.which provides financial and technical support.   The garden is also funded through grants from our Fresno District Mission Society. Contact DianeZastovnik,
for more details about our garden.
Hmong Community
Our Hmong neighbors and friends (who are refugees from Laos) join us for special events such as Vacation Bible School and celebrations of harvest, Halloween and Christmas. We reach out to the Hmong families and children through English classes, Christmas gifts and assistance to move from welfare to work.
Mission Thrift Shop

thriftshop
The Mission Thrift Shop is the first Friday and the following Saturday of each month from 9 am to 1 pm. The shop does not make a profit. It fulfills 4 missions: 1) Proceeds go to the missions of the United Methodist Church. 2) The store provides low cost goods to people in need. 3) Some of the merchandise is provided to FIRM and Love INC. 4) The store provides and educational experience and growth for all of the workers involved with it. If you would like to volunteer to help in the Thrift Shop, contact the church office, 299-1615, . Come in and shop too! Good prices!
MUMC Annual Boutique in November
The Boutique is held every November and proceeds go to missions. You can help by making items to sell or buy some of the beautiful items on sale.
The United Methodist Connections
Memorial is a connectional church which means it is a part of the world wide United Methodists. Some of Memorial's financial apportionments go to the General Board of Global Ministries,
http://www.gbgm-umc.org/ to be used in world wide missions (including in the USA).
One of those missions is the United Methodist Committee on Relief which responds through its ecumenical partners to various needs and disasters in the world. Some disasters like Katrina, require a long time commitment.  Donations can be made direct via this secure site:
http://MethodistRelief.org or by phone: 1-800-554-8583
UMCOR is exempt from tax under section 501(c)(3) of the Internal Revenue Code of the United States and qualifies for the maximum charitable contribution deduction by donors. One hundred percent of your tax-deductible gifts go to the emergency response or Advance project that you designate.  More about UMCOR: http://gbgm-umc.org/umcor/info.stm