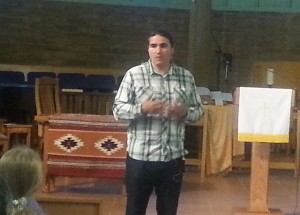 On Sunday, April 12, the 4 week  Native American Study course began at Memorial with the history of the local native people led by Dr Bernard Navarro, professor at Fresno City College. Dr Navarro described the different nations and tribes throughout California, including the San Joaquin valley.
The April 19 study was about "Native American Spirituality" led by Michael Youngblood Konkle. Video: http://youtu.be/J0kEdMc3kyw (1 hr)
On May 3, Dr. Bernard Navarro described the historic traumas suffered by Native People. Video: https://youtu.be/CrkniWtK3Hk (1 hr)
Post expires at 8:00pm on Sunday May 3rd, 2015
24 Hours That Changed the World
– A study by Adam Hamilton
Adam Hamilton delivers solid scholarship describing how the day of Christ's crucifixion unfolded. It also suggests that our response to Christ's work – when it appears evil has the upper hand – can be one of courageous hope and great courage. Click here for summary and reviews.
This study will follow Adam Hamilton's book, the 40 Days of Reflection devotional guide, and will incorporate his videos.  Click here to see introductory video.
Classes will begin with the beginning of Lent on March 9.  Class times:
Sundays, 11 am
Sundays 5:45 pm. Multiple classes in English & Hmong languages.
Wednesdays, 7:30 am at Denny's at Shaw and Willow.
Thursdays, 6 pm
Other class days and times will be determined on class leaders and your preferences.  Call the office, 559-299-4615 with your preference.  Check back later for more class listings.
Books can be ordered via the church office or at any of the sites below:
Post expires at 1:00am on Thursday May 1st, 2014